FEATURE: The right tools for the technology
By Malcolm Duncan of Klein Tools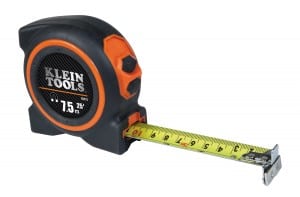 With more and more new technology entering the market the issue of home automation continues to evolve and as a result it has become a 'must have' solution for the homeowner.
From centralised control of lighting to HVAC systems, appliances, security locks of gates and doors and other systems, there is technology available to provide convenience, comfort, energy efficiency and security to homeowners at levels we have never seen before. An app installed on your smartphone or iPad for example can control your heating, lighting and blinds remotely in a matter of seconds.
But with the emergence of new technology there comes a new challenge for the installer who needs the right tools for the job. Quick and efficient installation is key and using quality tools which will stand the test of time is imperative. This means paying attention to materials and the design features of tools to ensure that they have been built to perform, and to last.
Strip it down
Home automation will inevitably mean the installation of new cables and switches, which will come in different shapes and sizes. Wire strippers will therefore be an essential piece of kit to get the work done.
The choice in the market for wire strippers has now expanded from a simple manual pair to ranges of automatic and laser alternatives. The requirement for home automation installations will usually sit somewhere between manual and automatic and will depend on the installer's preference. One of the benefits for installers of sticking with manual is the 'feel' they will retain for the wire as they strip it back. If you are opting for a manual set, there are some key characteristics to look for to ensure the best quality tool for the job.
The important factor to bear in mind is to ensure you purchase a pair of strippers with the correct millimetre length, or to look for a universal set. In the case of the latter, it is always preferable to use a spring-loaded pair for fast opening. The best pairs will come with a strong-gripping serrated nose for easy bending, shaping, and pulling of wire, and precision-ground stripping holes that will fit the wire you are working with perfectly. Ease of storage should also be considered, so a reliable locking function is a definite bonus.
A good pair of automatic strippers offers a 'grip and strip' compound function for higher speed stripping in a single-action squeezing motion and a high quality automatic set will strip up to 25mm of insulation in one fell swoop. Ensure the pair you select has precision holes that can easily remove the wire's insulation without damaging the wire itself and when interrogating the specification, make sure they feature a tension-loaded wire-grip that will be able to gently hold the cable while retaining its geometry, i.e. not bending it.
A sound installation
The insertion of a deep junction box in locations around the home where electronic control takes place will enable installers to neatly slot new switches and the general rule of thumb decrees that it is better to overestimate than underestimate the size which is required.
This approach will give you room for wire splicing and hopefully avoid you having to re-install the boxes at a later date. The choice of junction box is a simple one: metal or plastic – both are non-conductive and plastic tends to be the more common option. However regardless of the type which you choose, any junction box installation is going to require the use of side-cutting pliers.
From a longevity point of view, a pair that won't stiffen up is essential. It is therefore worth making sure the pair you choose has hot-riveted joints which will ensure smooth action and no handle wobble. Induction-hardened cutting knives also make a major contribution to a long life for your pliers while a precision-hardened plier head will give you on-the-job toughness and handles which are shaped to fit your hand will help with speed and comfort while you work. However if you are looking at higher specification products then it is worth considering that some manufacturers will have designed their products with the rivet head closer to the cutting edge which gives you vastly-increased cutting and gripping power and ultimately a better end result.
Get a decent screwdriver
It may not be up there with life's great imponderables, but the question of what makes a good screwdriver is one that should occupy at least some thinking time for the conscientious electrical installer. Home automation installers use these tools to for numerous jobs so having a robust and comprehensive range is a good idea.
Strength of tip and quality of grip should definitely be at the top of the list. A cushion-grip will go easy on your hands and is likely to give you better purchase while a chrome-plated screwdriver will increase corrosion resistance of the tip. If the manufacturer has precision-machined the tip, you will also be able to rely on the fit which will save endless amounts of time in the long term.
Your screwdriver set will also need a varied range of head sizes and lengths. Home automation installations may need tools to work in limited spaces, so the ability to manoeuvre the tools is crucial and a range of lengths and sizes will make sure you can work in a variety of scenarios.
A simple five-piece set with two cabinet-tip, one Phillips-tip, and two keystone-tip screwdrivers should be sufficient. For ultimate flexibility and from a space-saving perspective, interchangeable heads are a more sophisticated option and if you are going down this route a 32-bit set will cover most requirements.
Electrical testing
A homeowner investing in technology to drag their house into the digital age will not thank an installer who does the job but fails to ensure the flow of electricity does not exceed the amount the circuit is capable of transmitting. Blown-fuses and damaged components will put an installer firmly on the fast track to a catalogue of bad reviews, so a dependable voltmeter is a worthwhile investment.
Digital voltmeters will offer better accuracy than their analogue counterparts and for home automation purposes, a voltmeter should offer DC and AC current and voltage measuring. Other things which are worth looking out for are a backlit display which will prove its importance when you are crawling around in a dark cupboard or loft space. In addition, a meter with a rubberised outer shell will keep your blood pressure in check when it falls to the floor from heights– it is however worth noting that although drop protection tests are fairly standard practice some manufacturers test above and beyond the requirements of the UL/IEC Standard and therefore the products will inevitably stand up to falls better. And finally don't forget about safety, a CAT IV safety rating is the highest you can get, so look out for it and beware of manufacturers who say that you won't need it – you don't want to suddenly discover the hard way that you did need it after all!
Insulation is key
Insulated tools are a key component of any electrician's toolbox and to ensure longevity and peace of mind you need pliers, cutters and screwdrivers which are made with the right level of insulation.
A set of pliers with three-layer insulation, for example, brings extra security because when the mid-layer of such a tool becomes exposed on the grip it can serve as a warning to the user that the insulation of the tool is compromised and therefore it's time to buy a new pair.
Ensuring the pliers and cutters you use offer 1000v protection is also vital. It is important to remember that not all insulated hand tools are created equal, so checking for the relevant standard marks is absolutely essential. A set carrying the International Electrotechnical Commission's IEC 60900 International Standard is the key mark to look for as the presence of this safety mark gives you the confidence that the tools have been subjected to rigorous testing protocols.
One such test, the dielectric test, will see an insulated tool have 10,000V passed through it to ensure that there are no leaks in the insulation. Tools must also pass tests for stress and flammability before the safety mark is awarded so do look out for this.
Ultimately the only way to ensure that your tools are of the highest quality is to buy them from a brand that you can trust and one which you know carries out testing to the highest standards. If you go down this route then you can guarantee a long service life from your tools and all you need to focus on is getting the job done quickly and to a high standard.
This feature was published in the April 2015 issue of Electrical Contracting News. If you would like to commission a similar feature please contact Tracey Rushton-Thorpe.
Media Downloads